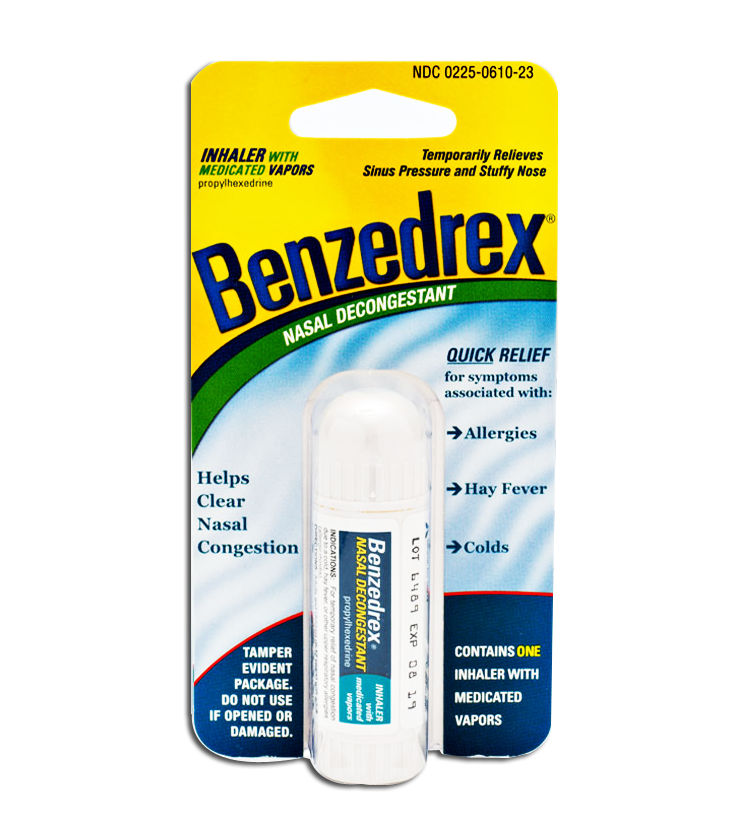 ingredients
Active Ingredient: Propylhexedrine 250 mg.
Inactive Ingredients: Lavender oil, menthol.
directions
This product delivers in each 800 milliliters of air,  0.40 to 0.50 milligrams of propylhexedrine.
Adults and children 6-12 years of age (with adult supervision): 2 inhalations in each nostril not more than every 2 hours.
Children under 6 years of age: consult a doctor.
uses
Temporarily relieves nasal congestion due to a cold, hay fever, or other upper respiratory allergies (allergic rhinitis).
warnings
Do not exceed recommended dosage.
Stop use and consult a doctor if symptoms persist.
This product may cause temporary discomfort such as burning, stinging, sneezing, or an increase in nasal discharge.
The use of this container by more than one person may spread infection.
Use only as directed.
Do not use this product for more than 3 days.
Frequent or prolonged use may cause nasal congestion to recur or worsen.
Ill effects may result if taken internally.
If pregnant or breast-feeding, ask a health professional before use.
Keep this and all drugs out of reach of children. In case of overdose or ingestion of contents, get medical help or contact a poison control center immediately.
precautions
This inhaler is effective for a minimum of 3 months after first use.
Keep inhaler tightly closed.
Store at 59° – 86° F (15° – 30° C).
availability
One Benzedrex Inhaler per package.